Personal injury lawyers – Collingwood
For almost two decades our team of experienced personal injury lawyers have helped clients secure the compensation they deserve. At Singer Katz LLP we have successfully represented clients in Collingwood who have been involved in serious catastrophic accidents. A serious accident can change your life forever, both physically and financially. In such times – when at your most vulnerable – you shouldn't have the added stress of fighting insurance companies for essential help by yourself. Our team of experienced personal injury lawyers will stand up to the insurance companies and advocate for you.
We proudly serve the region of Simcoe County with excellent legal representation that is critical in times of trauma. Let us fight for you.
We come to you
In cases involving brain injury, spinal cord injury, amputations, and serious orthopaedic injuries we will come to your home or meet you at the hospital. We also have the resources to represent you against any insurer.
For us, it's personal.
Jason Singer and Jason Katz are both Certified by the Law Society as Specialists in Civil Litigation, a designation very few Ontario personal injury lawyers have achieved. They understand that when insurance companies withhold access to essential resources it can be very overwhelming and affect recovery.
We work with hospitals and associations including:
Free Consultations – Collingwood
Hiring a lawyer to fight for your rights can be very expensive, that is why we take most cases on a  contingency fee basis. You only pay us a fee if we win your case and are successful in recovering money for you. You will not have to pay any upfront legal fees and we will cover the costs associated with your case.
Motor Vehicle Accidents– Collingwood
A motor vehicle accident can be life-altering. Medical bills add up quickly and the inability to earn income can further complicate your situation. Rest assured, our experienced trial lawyers can help ensure you receive the treatment you need when you need it, and provide you the compensation you deserve.
Claims include:
Car accidents
Motorcycle accidents
Truck or bus accidents
Pedestrian accidents
Bicycle accidents
Brain and Spinal Cord Injuries – Collingwood
When a victim suffers a spinal cord or brain injury, life immediately changes for them and their loved ones. Daily tasks can become near impossible. These legal cases can be complicated to navigate and will require the support and assistance of excellent, caring personal injury lawyers. Let us be your champion, let us fight for you.
Long Term Disability Claims – Collingwood
Claiming Long-Term Disability Benefits can be a frustrating and arduous task due to the various complexities brought on by many insurance companies. Our team of experienced lawyers will fight for what's yours and get you the compensation you deserve. Please, contact us today.
Insurance Broker Claims – Collingwood
The provision of expert advice is a core part of the duties of an insurance broker. When the advice given does not meet the standard prescribed under the law, the broker becomes liable. Such advice could put you in a situation of insufficient coverage or worse, make you lose your rightful coverage. Our experienced insurance lawyers can help you secure your rightful compensation as a result of the negligence of your insurance broker.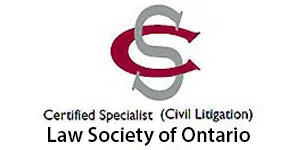 Case Studies/ Testimonials
Cases of Note:
Jason Singer – https://singerkatz.com/jason-singer/
Jason Katz – https://singerkatz.com/jason-katz/