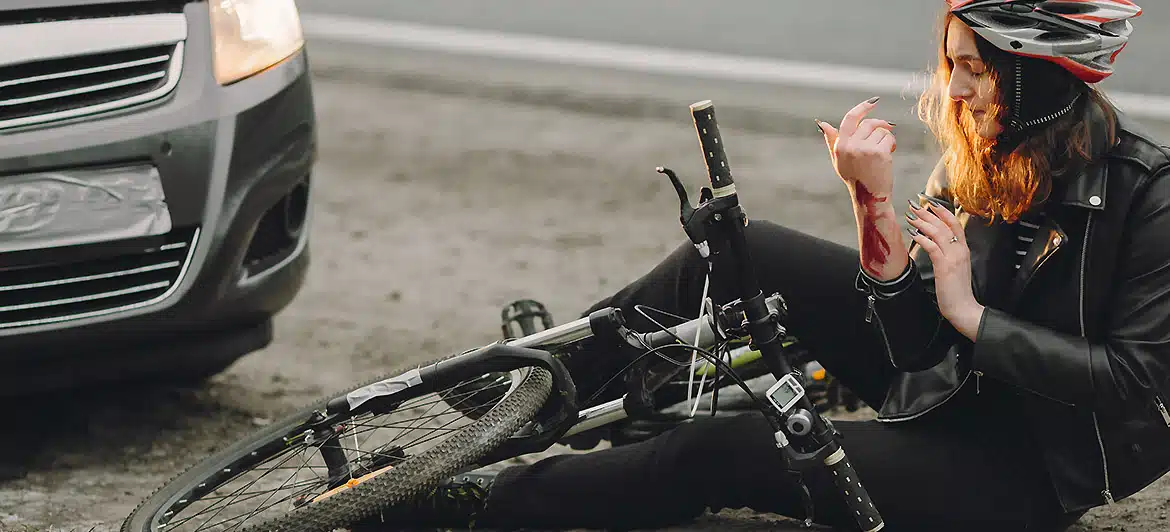 Cycling safety: 10 tips to avoid bike-related injuries
It's that time of the year again – Canadians are hanging up their cold weather gear and pulling out their summer staples. For many, that includes their bicycles.
Whether it is energetic kids fresh out of the classroom, outdoor enthusiasts anxious to resume their favorite warm-weather activity, or employees switching up the way they get to work, cyclists are filling up the streets.
Statistics show that the number of cyclists is growing in Toronto and Ontario, but so is the number of serious injuries like a traumatic brain injury (TBI) or even death from bicycle accidents. Here are 10 tips for bikers to keep things safe:
1. Wear proper biking attire
Loose-fitting clothes and open-toed shoes can spell disaster for bike riders. Coats or jackets that extend beyond the waist, loose pants, long skirts, scarves or other items can get tangled in the bike's chain and cause an accident. Those who choose to wear protective gear, such as helmets or sunglasses, should ensure those items fit properly to prevent any visual obstructions.
2. Perform regular bicycle maintenance
Just like cars, bicycles perform at their best when they are properly maintained. Frequently check the chains, brakes, lights and tires to ensure they are in good working condition. If possible, travel with a small repair kit including a tire pump, screwdrivers, and other items needed.
3. Follow all traffic rules
In certain places in Canada, like Ontario, a bicycle is considered a vehicle just like a car. Therefore, all traffic laws that apply to vehicle drivers also apply to bike riders who are sharing the road.
4. Stay visible in the dark
According to Canadian Automobile Association, most bicycle-related injuries occur during rush hour and as it gets dark. Bright-colored clothing, reflectors and steady and flashing lights can help other cyclists, motorists and pedestrians identify a bicycle in the road.
5. Learn and use hand signals
Arm and hand gestures are a common way bicyclists can alert others on the road of their intentions. Learning the proper signals can help avoid confusion, which could prevent the risk of injury. Some of the most common signals are:
Righthand turn – Pointing the left hand up with the arm bending at the elbow
Lefthand turn – Extending the left arm out with the elbow locked
Stopping – Pointing the left hand down with the arm bending at the elbow
6. Keep an eye on the weather
Cycling in inclement weather can be uncomfortable and dangerous. Reduced visibility and slippery conditions can put bicyclists at risk for falls and crashes. If possible, check the weather conditions before venturing out or wait out a heavy rain until the conditions are more favorable.
7. Be cautious of road conditions
Potholes or uneven pavement, in the street or on the sidewalk, can cause bicyclists to lose control and suffer injury. Cyclists should find routes that are well maintained and be mindful of any debris that could cause an accident.
8. Stay hydrated
Long recreational bike rides and commutes can be tasking, especially in the hot sun. Cyclists should drink plenty of fluids to prevent becoming weak and possibly falling or crashing.
9. Obey cycling laws
Every area has its own laws for cycling, and it is important that cyclists are familiar with the laws where they are riding at all times. For example, many provinces throughout Canada require all bicycle riders under the age of 18 to wear a helmet. Stay up-to-date on the laws and any changes. Ontario riders can find a list of allowed riding areas, required equipment and other requirements here.
10. Take a first aid course
No one likes to think about accidents happening, but they do. Knowing how to handle the situation can foster a better outcome of an injury. Consider taking a first aid course to help in emergency situations. If possible, cyclists should keep a small first aid kit with them while riding.
Bicycles offer an excellent opportunity to catch a glimpse of the beautiful Canadian scenery. These tips will help cyclists enjoy the ride while staying safe.